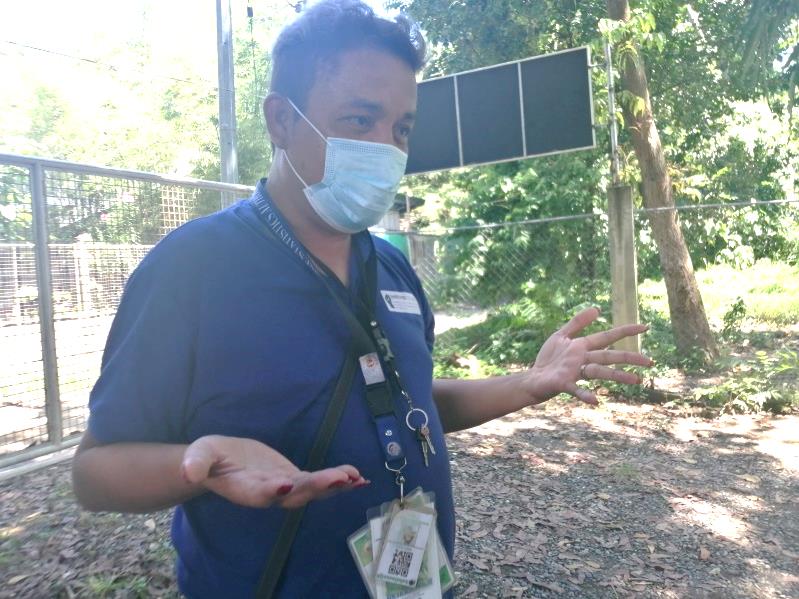 The Empower TIPLESS Project has proven that knowledge is indeed power – people whose awareness is raised about human trafficking can help address the problem.   Raising awareness on human trafficking among community members disempowers the perpetrators from preying on to the vulnerabilities of poor children, youth and even adults. In the recent learning session convened by CTIP USAID Asia, Cathy Zimmerman a behavioral and social scientist from the University of London who has led research on migration, violence and health, expressed her frustrations on the lack of studies or research specifically evaluating whether increased knowledge or awareness affects individual behaviors that could lead to TIP.  As to our experience in the field. our Participatory Action Researchers shared that they are able to make informed decisions and quick actions because of what they had learned about identifying and reporting possible human traffickers in their areas.
Mr. Sabroso or commonly called by his nickname "Tati", shared to us about a recent incident involving his work as a field researcher. He said, "Tungod sa akong mga natun-an sa atong mga trainings and awareness raising about human trafficking, nahibal-an nako nga basin human trafficking ang nahitabo sa mga bata. Mao nisumbong dayun ko sa police. Niadto ang mga police unya nagpa higayun og investigation sa maong factory."
This case involved a Chinese businessman in the area that had no business permit. The businessman hired children to work in the bottle recycling factory. As how he narrated their experiences, the children worked under severe conditions. They were not allowed to go home unless the work was done.  Among the materials used for cleaning is chlorine which can be harmful to children exposed to it for a long time. Mr. Sabroso said that he is willing to connect us with these children and their families so we can assist or refer them to agencies for proper interventions.
The other PAR researchers also identified possible human trafficking cases in their communities such as women who live in bunkhouses that are waiting for jobs abroad. Mr. Sabroso observed, and also the other PAR researchers agreed, that it is difficult to investigate and interview possible TIP victims because they try to protect their handlers as well. This is exactly what Atty. Rizza Mae Sam of the DOJ Regional Prosecution Office XI shared in the training with law enforcers.  TIP victims are very different from other victims.  Usually they are not aware that they are being trafficked so when they are rescued, they react and ask "Ngano man ko i-rescue? Nga nag trabaho ra man ko?" ("Why do I need to be rescued? I'm just working.") Unaware that they are TIP victims, they insist that they are just earning their keep, and claim that their employers are good. This is the reason why it's hard for law enforcers and prosecutors to establish trafficking cases.
In general, anti-human trafficking awareness raising campaigns should focus on the true nature of the crime and its consequences.  The awareness raising sessions and trainings given by the Empower- TIPLESS project heightened the vigilance and public accountability of the organized Participatory Action Researchers in our partner communities. They are able to take action the moment they notice "red flags" in the workplace and in their communities that signal possible cases of human trafficking.