Wherever there is poverty, more vulnerable children are at-risk of exploitation. Minors unnecessarily engage in heavy labor to help alleviate difficult family situations. They are easily duped by strangers posing as trustful recruiters who promise jobs and good salary in exchange of easy labor.
When he was 16, Junaid left his house one morning along with his friend to work as laborers in a factory. That was the beginning of summer. The family is barely thriving with his father's menial income. Being the eldest among the siblings, Junaid felt the pressure to also provide for his siblings.
That early morning, a white heavily-tinted pickup took them to a factory which he described to be very far from his place. The person driving was the recruiter who told him and his friend about the job. He promised Junaid and his friend a good pay of P500.00 for several hours of work. When they got there, Junaid was surprised that they were taken into a huge factory where flour, sugar, and other dry products were packed and segregated for distribution. They worked from 8:00 in the morning until 6:00 in the evening. They had no rest and food has not been provided contrary to everything the recruiter promised. Good thing he brought some food and shared this with his friend.
It was already dark outside and there seemed to be no sign of the white pickup coming to take them home. Tired, weary and with only 30 pesos in his pocket, Junaid and his friend decided to sneak out of the factory. They walked more than an hour to reach the highway. They found the recruiter eating at a carinderia on their way out. They approached him and demanded pay for their labor. They also complained about the working condition. They also asked why he did not come to fetch them from the factory. He only said that he forgot to pick them up. The recruiter only gave them P150.00 for the whole day's work contrary to what was agreed earlier. The recruiter immediately dismissed them after giving the money. Junaid and his friend had no choice but use the money to pay their ride home. If he did not suggest leaving, maybe they would still be stuck in the factory because the recruiter had no intention of bringing them home.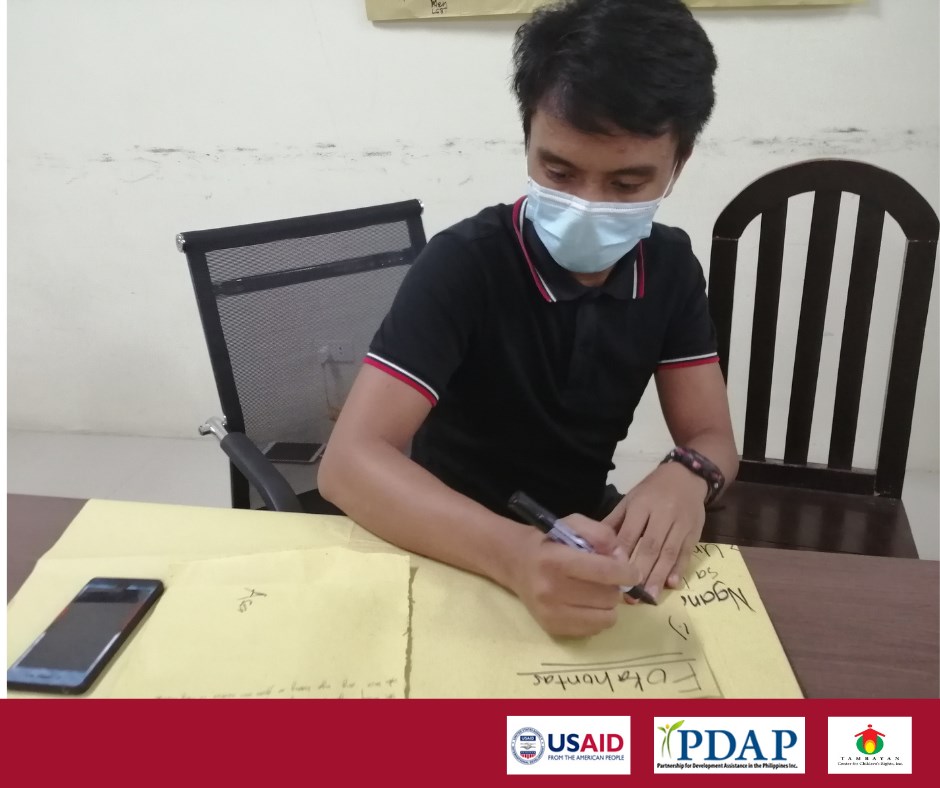 Junaid shared his story during the Participatory Action Research training conducted by Tambayan in 76-A for the local researchers in Kabacan area. Today, Junaid is already a trained PAR local researcher currently searching for possible TIP victims in his community. He said that the inputs given by the Tambayan about human trafficking put context and enlightenment to his experiences. From a vulnerable teenager who was almost trapped in the pit of labor trafficking, now Junaid is one of the PAR local researchers and a strong advocate against human trafficking.
STORY OF INTEREST | JUNAID | LOCAL RESEARCHER