"Paano nako nabago akong batasan? Tanan na gihimo nako sa unai s murag wa na nako gibuhat. Kadtong ginahimo wa najud....Karon pagabot tong 2016 naging part na ko sa barangay. Taanang mga ginahimo sa barangay ginapatwag na ko. Mga training sama sa responder, pag DJ sa barangay, nadungagan pa gyud. Ug daghan pud sa mga barkada nako gikan ug bugoy bugoy is nagskwela, nagtrabaho, ang uban minyo na pud, ang uban wa na gatambay tambay sa gawas. Gatulog nag sayo."
"How did my values change? All things I used to do, I don't do it anymore.....In 2016, I was part of the barangay. I was being called by the barangay. I trained as responder, became a DJ, and many more in my barkada from being rowdy are now studying, getting a job, others are married, others stopped hanging out on the streets. Now they sleep early."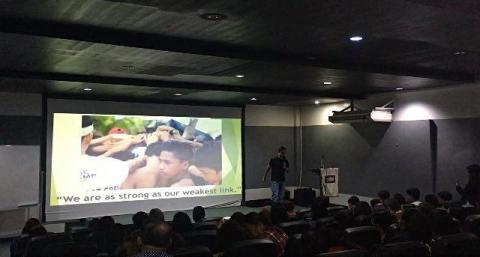 A former Child in Conflict with the Law (CICL) shares how he changed his ways thanks to Mintal's functional Barangay Juvenile Justice programs in front of an audience for #ChildreNotCriminals Advocacy Caravan. A living proof that CICLs can change for the better if the Juvenile Justice and Welfare Act was implemented properly. The advocacy caravan last February 24, 2020 was attended by more than a hundred stakeholders, especially from barangays and LGUs to promote the call to properly implement RA9344 or Juvenile Justice and Welfare Act of 2006  instead of treating children as criminals and lower the minimum age of criminal responsibility. This was in partnership with Humanitarian Legal Assistance Foundation.
Resource persons during the Caravan were leaders who have closely worked with CICLs, Children at Risk, and the juvenile justice system. Atty. Francis Calatrava, former PAO Region XI Director, shared proper PNP protocols on how to handle CICL and CAR. Captain Ramon Bargamento II, Brgy Mintal Captain, shared how best practices of the barangay through functional Barangay Council for the Protection of Children and concrete programs, like Dragonboat as a form of diversion,  enabled to organize gangs and change CICLs.
Just like any other barangay, Mintal used to see CICLs as enemies in their community who disrupt peace and order. The captain shared that they shifted their paradigm by treating them as friends, understanding their problems, and providing programs which will divert their energies into more productive activities. Such diversion included training CICLs in Dragon Boat which entailed them to work with one another despite being former rival gang members, be disciplined, and respect authority.
"Kaning CICL na problema dako kaayo ni na problema pero. Gibago namo ang tanaw sa problema. Girecognize namo na apil mi sa problema. kung di nato baguhon ang pagtanaw s aproblema way kahumanan ang gukod sa barangay mintal."
"This CICL problem is big but we changed the way we saw the problem. We recognized that we are part of the problem. If we didn't change how we viewed it, we wont stop chasing the children.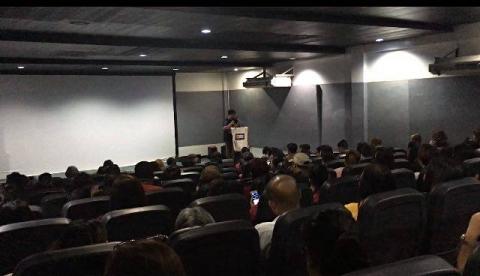 Mintal's experiences proved that providing proper interventions is not a "one time-big time" thing and is not an assurance that the children would immediately change.  CICLs have even committed vices while undergoing interventions however this did not mean that the barangay would stop their program since understanding the children enabled them to see that the long lack of trust from authorities, lack of family support  and the negative labels they acquired from the public made it harder for them to change.
The captain shared that the role of the family is highly important. This coupled with other important stakeholders in the barangay like the social workers and functionaries  have to work together with the children. They did not give up and their patience led them CICLs to  gradually change their behaviours. As shared by the former CICL, some of the CICLs are even contributing for the development of the barangay. Soon, they not only saw that implementing RA 9344 properly is effective in rehabilitating CICL but also preventing the cases to proliferate. As of today, Mintal does not have any CICL cases anymore as compared to before. They have now geared their focus toward CAR.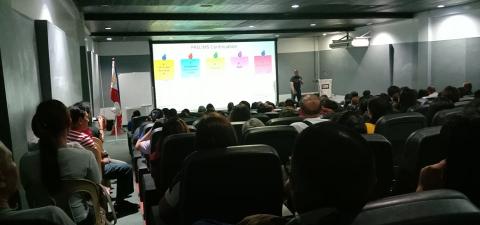 Both resource persons testify  that community-based programs for CAR and CICL avoids children going through the formal justice system as it is more costly and leads to congestion of cases in courts. The caravan engages the audience who are important stakeholders and frontliners to give the children  chances, the same way we give our loved ones chances to change.
"Ngano mo give up man ta sa atong mga anak. Di man gani mo mugive up sa inyong mga uyab na kapila namo gilikasan. Diba. Kapila na mo gikuan na promise dili na. Kani dayong mga bata mugive up namo….. Pero mga igsoon, ang atong efforts is not a magic wand or magic spell. Kay tungod kay amigo na ta pagbago na mo. Dili. Remember, niagi baya tag pagkabata… so never give up on our young."
"Why do we even give up on our children? We don't even give up in our loved ones who fooled us many times already. Right? How many times have you been tricked "Promise I wont do it again." Then we give up on our children. ….But my friends, our efforts are not a magic wand or spell. Just because we're friends, they will change.  That's not the way it is. Remember, we also went through childhood… So never give up on the young."