Weak pathways in coastal slum communities cited by children in an open source mapping activity as highly risky now renovated and aided residents during monsoon waves.
"Kay gani ang among silingan sa likod diri na lang nangambak sa pathway kay didto sa ilaha nangaguba naman ang ilaha didto ug nagkasamad samad naman sila." ("Even our neighbors who live behind us were jumping to pass through our pathway because their pathways have been destroyed and some are already getting injuries"), Fatima, a Tausug grandmother from Barangay 21-C, shares about the newly renovated pathway in her area which not only benefitted those near her but also in other areas as well, especially during the monsoon waves that wreaked havoc in some coastal communities on the first two weeks of August. She added that it was also easier for her to carry around her grandchild who has cerebral palsy.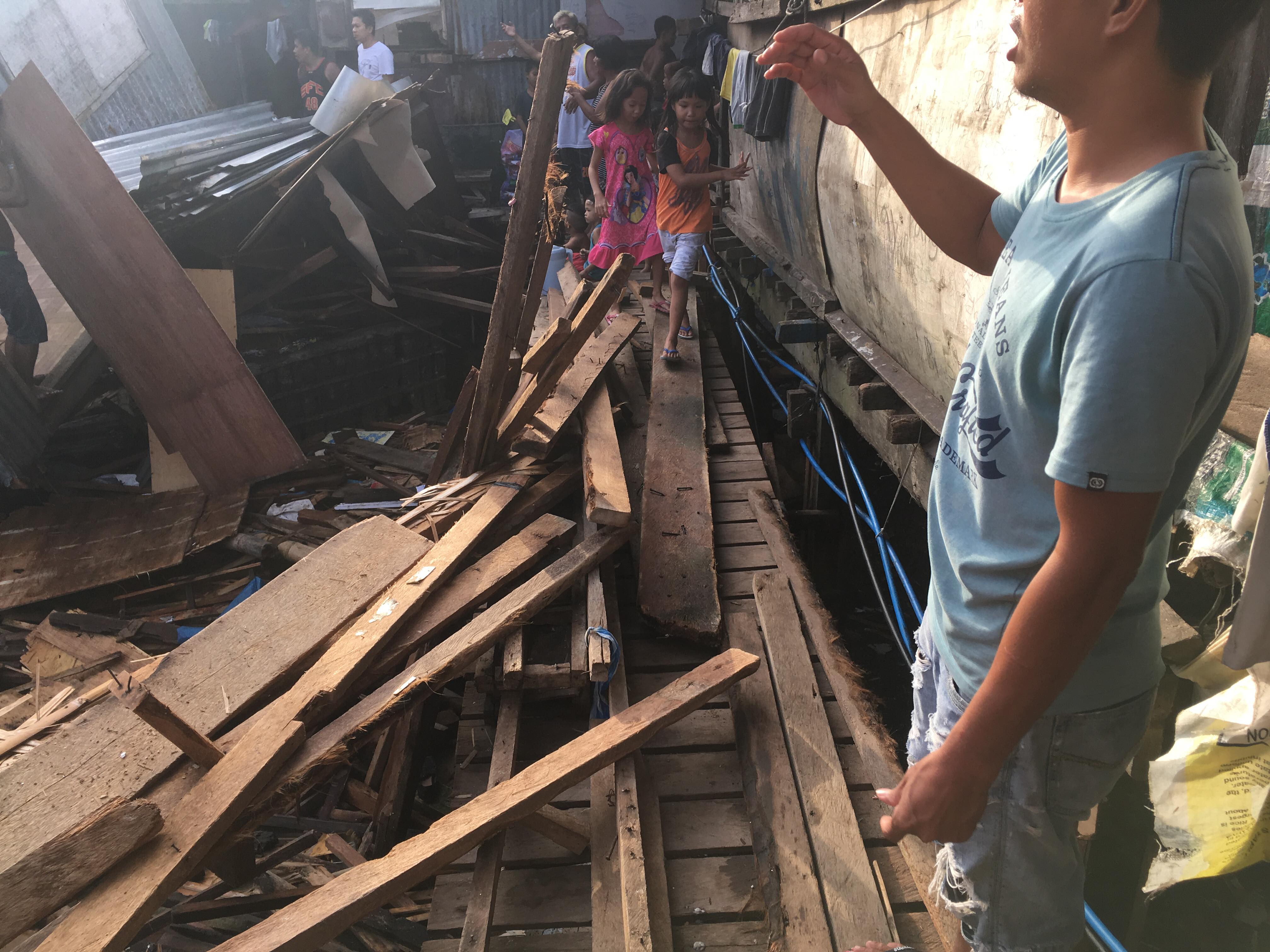 Children pass by a newly renovated pathway surrounded by debris which was carried away by the monsoon waves 
Just last month, eleven areas had their pathways renovated in Barangay 21-C and 22-c, Boulevard, Davao City. The renovated pathways were funded by Johanitter International Assistance through German Federal Foreign Office. Locals of disaster prone communities in Barangay 21c, 22-C and 23c have clamored long before in their respective barangays to have their pathways renovated to avoid accidents and so that it would be easier for them to escape in cases of emergency.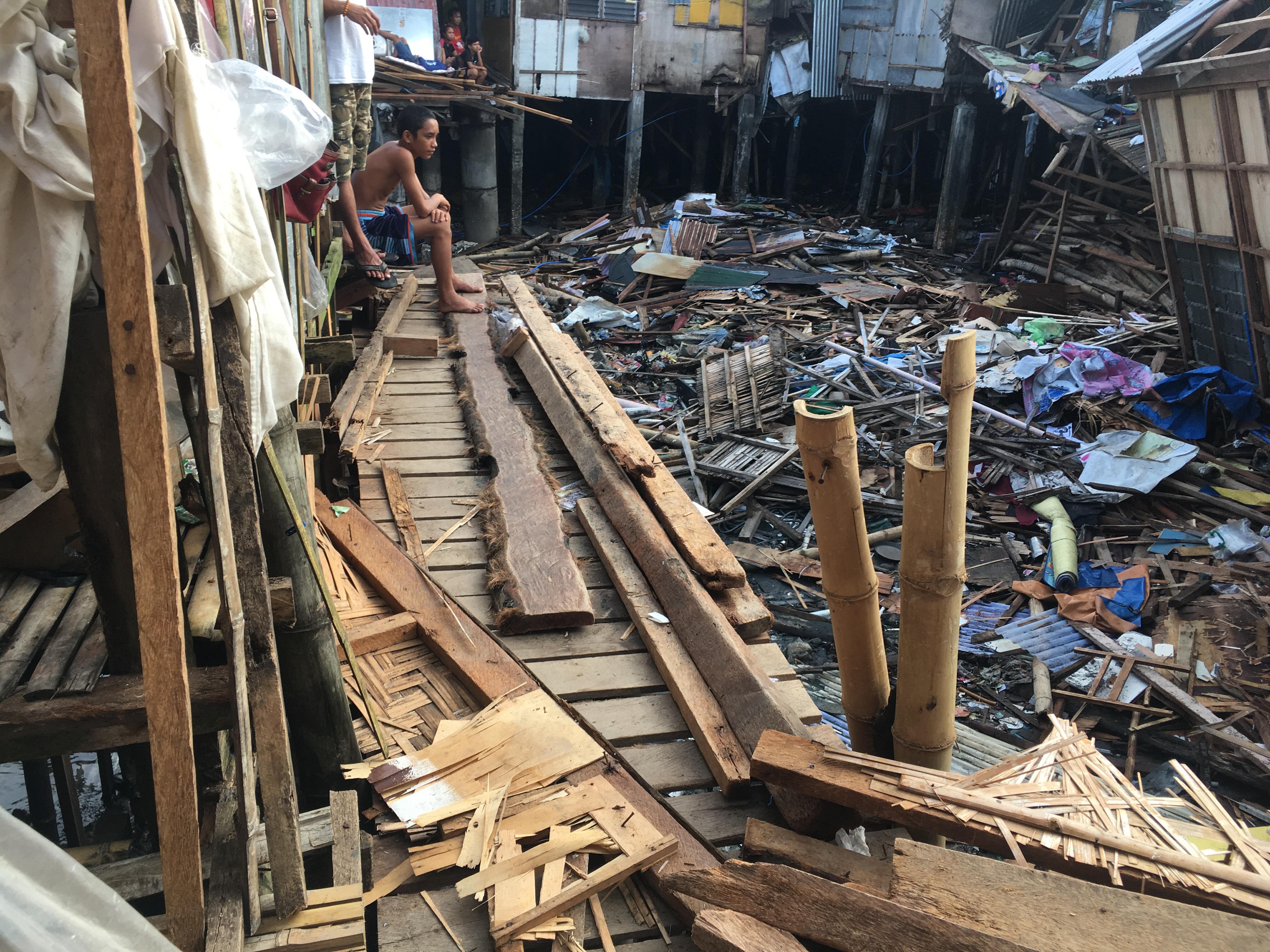 A teenage boy hangs on the pathway and looks on the damages done by the wavesCaption
During an Open Source Mapping activity with the children from the community last year, majority of the children cited debilitated pathways as a common hazard in the community. "Nagsugod di ay mi sa pinaka una na dalan sa Bajauan. Gabok kaayo! Huwarag naay muagi na foreigner didto ba mga 10 kabuok... mahugno!" ("We started on the first footbridge of the Bajau community. It's very brittle! If about 10 foreigners pass by, they will definitely fall down) , Joljay Araman, a 14 year old Badjao participant jokingly quips in front of stakeholders, including local government officials, during the community validation of the Open Source Mapping (OSM). OSM is an activity that enables children to use technology to map out hazard- and risk-prone areas and the existing facilities that could respond to disaster in their coastal villages in Davao City.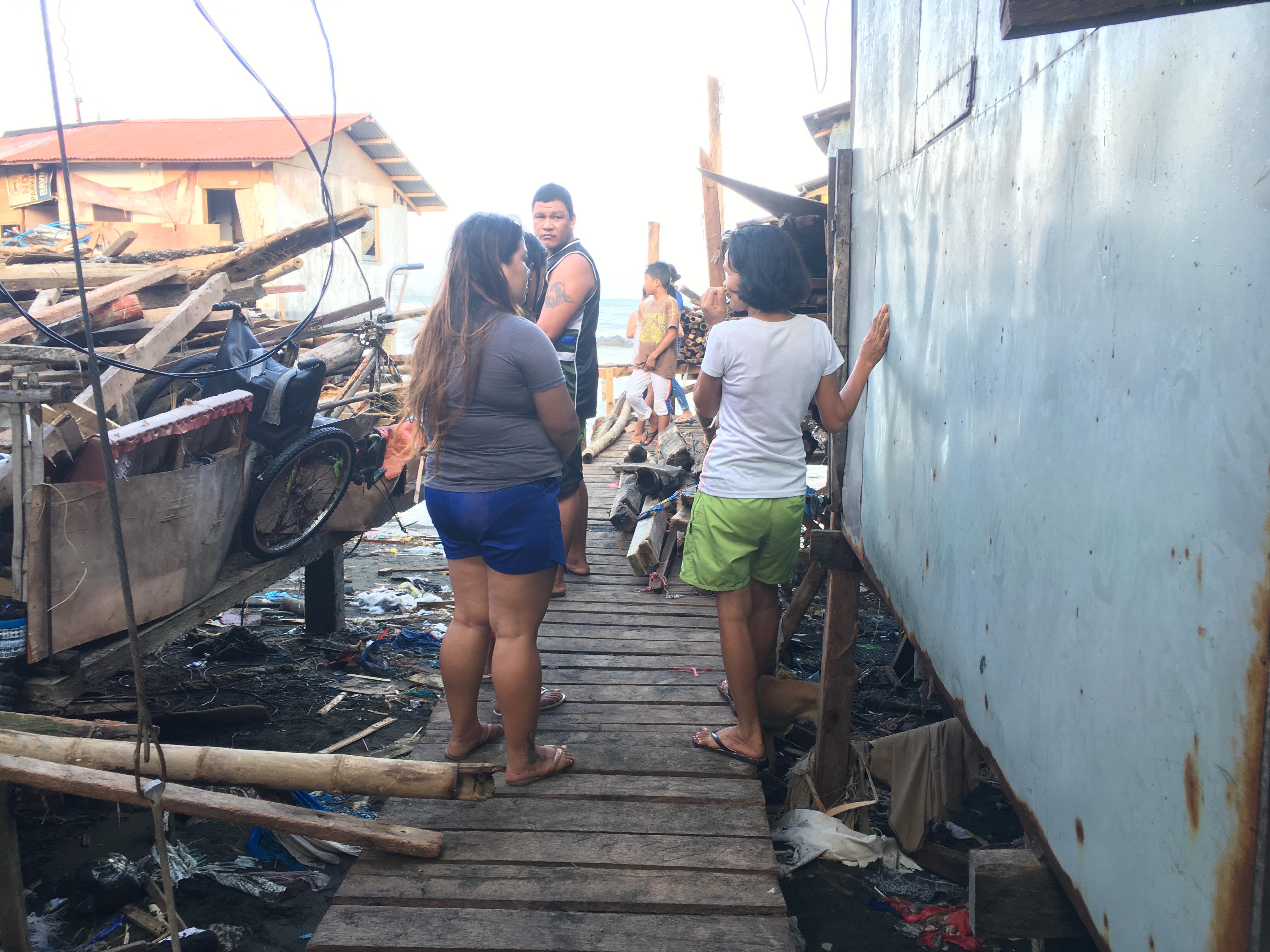 Residents talk and discuss the aftermath of the moonsoonCaption
This activity paved way for Johanitter International Assistance through German Federal Foreign Office to fund the rehabilitation of pathways in Barangay 21-C and 22-C. This is in partnership with Lapyahan sa Dagat of Barangay 21-C, Gapnud People's Organization of Barangay 22-C, and Barangay 21-c and 22-c Council.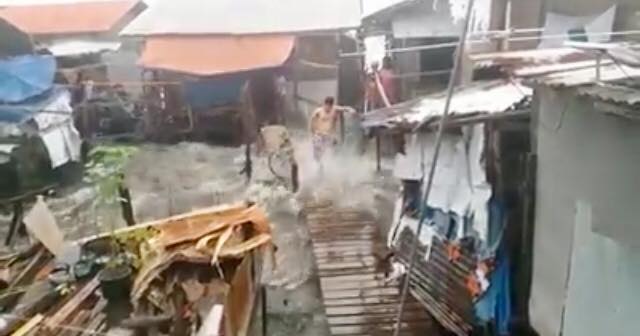 A video screenshot of a renovated pathway along the boundary of Barangay 22-c and 23-c as the strong waves crashed
Residents living along the coastline in Barangay 21c and 22-C shared that the pathways were very useful as escape routes during the moonsoon incident. Even some from Barangay 23-C shared the same sentiment as some pathways were near their areas as well. Others even shared that houses could have easily been destroyed if not for the renovated pathways that also served as seawalls in order to block the strong waves and debris washed ashore which further could destroy homes.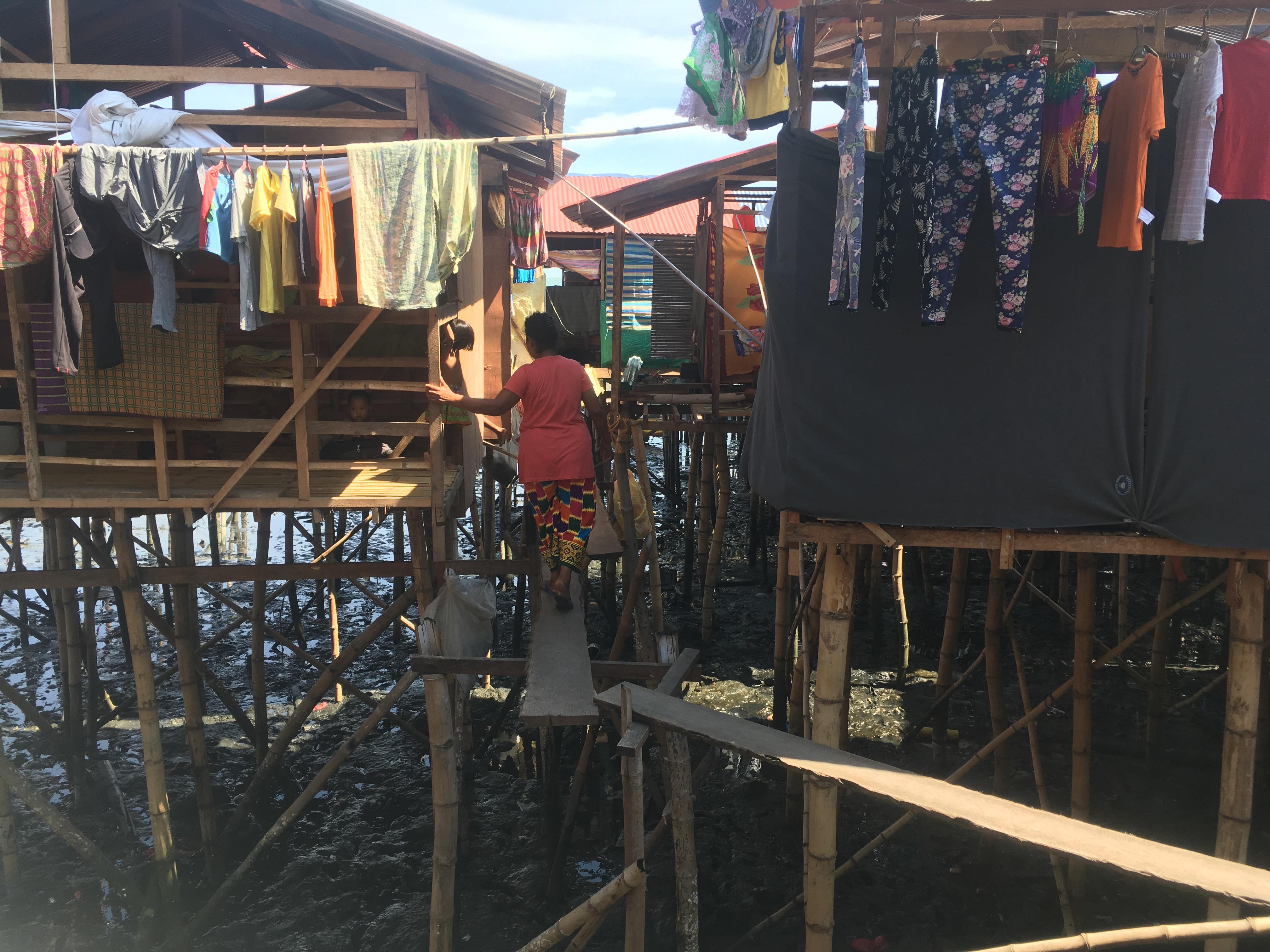 A narrow pathway in the Bajau Community on a normal day. A lot of residents, including children and elderly, live on this area.
The impact of debilitated pathways have caused injuries and endangered people's lives even on normal days but it gets riskier during times of disasters. In Barangay 23-C, a partner child acquired injuries due to falling from the pathway during the monsoon incident as she tried going back and forth rescuing her things. Originally, some areas in Barangay 23-C were part of the pathway renovation plans however the captain has claimed that their barangay has their own budget for the pathways. Until now, there are still a lot of risky pathways in Barangay 23-C. The renovated pathways meanwhile in Barangay 21-C and 22-C have not only lessened the risks brought about either during a normal day or during disasters, but also have prevented households from spending too much to create safer spaces for their families.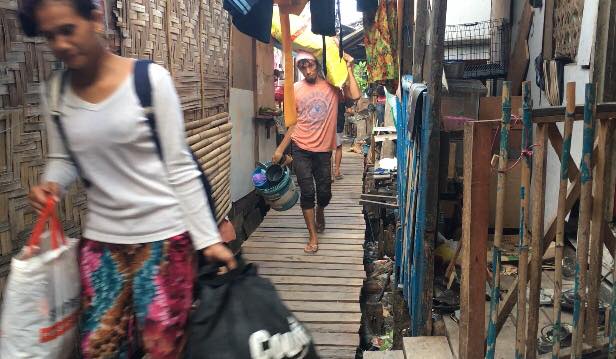 Residents affected by monsoon waves in Barangay 23-C evacuate as they pass the newly renovated pathway in Barangay 22-C
About the project:
Tambayan Center for Children's Rights is an NGO based in Davao City working with Adolescent Girls on the Streets and Children in Need of Special Protection together with their families and communities to fulfill their rights. Tambayan in partnership with Johanitter International Assistance and German Federal Foreign Office currently has a project in Barangay 21-c, 22-c, and 23-c entitled "Strenghtening Resiliency in Urban Slum Communities".  This includes facilitating infrastructural projects that will lessen disaster risks, especially for children.
Tambayan is currently accepting cash and in-kind donations for the recovery of partner households affected by the strong monsoon waves in Davao City. You can drop your donations at Tambayan Center for Children's Rights Inc., Rainbow St., New Lanzona Village, Matina Aplaya. You can also contact us at (082)3260112 or message at https://www.facebook.com/TambayanCenter/.